Our Uniform
We believe that uniform plays an important role in creating unity and in maintaining the high standards of appearance which we expect from all our students. It is one way in which we aim to promote a sense of pride and to teach students that they have a responsibility to themselves and to each other to ensure that the good name and reputation of the Academy are preserved and developed. In all aspects of appearance, the aim is personal smartness; extremes of fashion are not permitted. We ask parents and carers to support our smart uniform expectation.
For reference and clarity, page 6 in the Student Planner outlines the uniform expectations in detail for our existing students and the Transition Booklet provided to our Year 6 cohort is also a good source of information for those first purchasing clothing.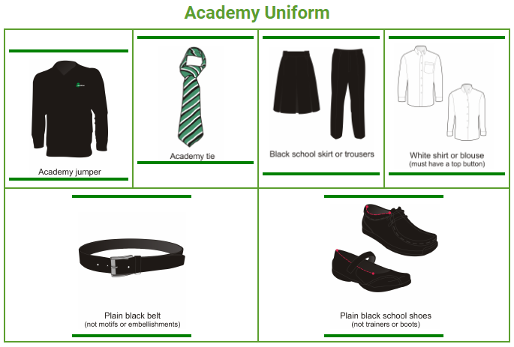 Our approved uniform suppliers are as follows:

Uniform Information
Parents and carers should be aware that students arriving in incorrect uniform will be removed to isolation until appropriate uniform replacements have been provided. The Academy will not bypass this expectation as a result of receiving notes from parents explaining uniform discrepancies. Exceptions may be considered where notes are supported by a letter from a medical professional.
Uniform Notes
Trousers must be tailored, and appropriate for school wear. Fashion-style trousers ie stretch fabrics or lycra are not acceptable as school wear.
Facial and body piercings are not allowed. Pupils are not allowed cartilage piercings.
Shirts and blouses should be tucked in at all times.
Make-up is banned in KS3. This includes false nails, false eyelashes and nail varnish. In KS4, make up can be worn but must be removed unless applied sparingly.
Jewellery is not allowed in school. A single watch may be worn.
Outdoor coats must not be worn inside the school building.
Pupils are only allowed to have natural hair colouring. Inappropriate fashion hairstyles are not allowed.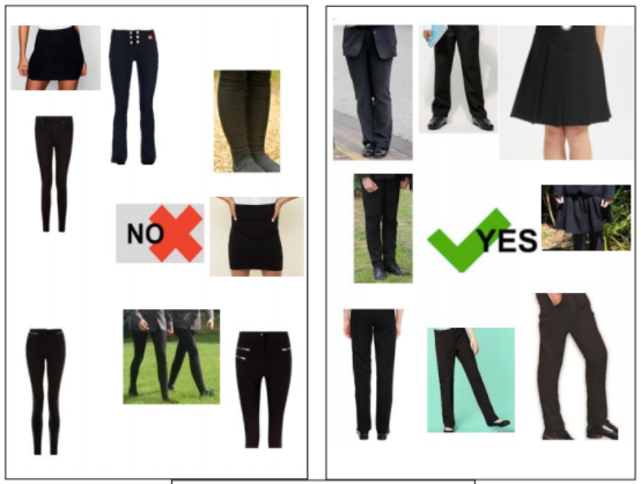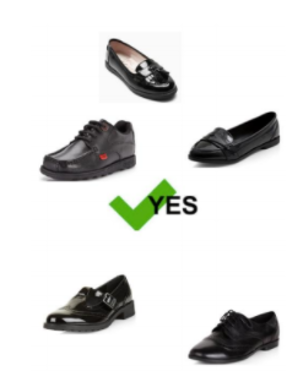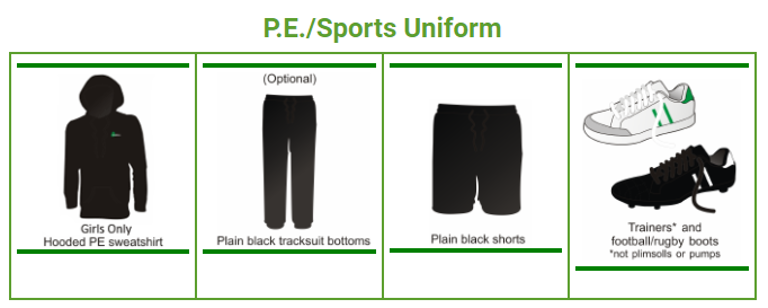 PE Kit Standards
Girls
Kukri PE Top (initialled)
Plain Black Leggings / Plain Black Track Bottoms / Plain Black Shorts
N.B (Lycra or cycling shorts are not permitted)
Plain Green Socks
Trainers
Hair Bobble
Official Rodillian Hoodie / Plain Black Base layer (optional)
Boys
Rugby Shirt (initialled)
Plain Black Rugby Shorts / Plain Black Track Bottoms
Plain Green Socks
Trainers & Football Boots
Official Rodillian Hoodie / Plain Black Base Layer (optional)
Kukri is the official PE Kit supplier for all students at the Academy.
Rugby/Netball shirts need to be purchased through the Kukri website . However shorts, socks, leggings and base layers may be sourced elsewhere if parents/ carers choose to do this.
Boys shorts must be suitable for playing rugby, and girls' leggings must not be transparent when stretched.
It is essential that any shorts and socks that are sourced elsewhere are the same as that outlined on the Kukri website.
Students without a piece of, or an entire kit, or with inappropriate kit, will receive an equipment comment and be required to borrow school kit for the lesson on receipt of their planner.
Replacement Kit
Following the closure of the Kukri kit shop in September, they will then be reopening a "stock" shop mid-September, this will enable parents to replace lost kit, with a shorter delivery turnaround (however this will incur a P&P charge). Students should show proof of purchase for that replacement kit in order to avoid sanctions.